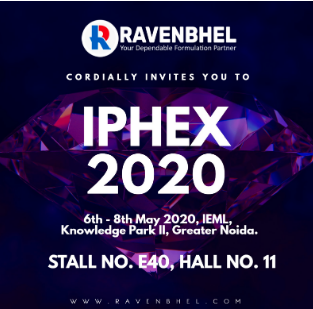 iPhex 2020 – EXHIBITION FOR PHARMACEUTICAL
The event iPhex 2020 is an annual exhibition to display:
Finished Formulations
Tablets, Capsules, Liquids, Sachets.
Purpose of exhibition?
This pharmaceutical exhibition iPhex 2020 in, India is devised to demonstrate the Indian pharmaceutical formulations and enthralling technologies. Nearly 700 buyers across the globe are invited to participate in the tradeshow. The conference is a platform to collaborate with the industry leaders in pharmaceuticals and nutraceuticals / health supplements.

Why Ravenbhel Healthcare Private Limited?
We are one of the leading pharmaceuticals, nutraceuticals manufacturer established in north India with corporate office at holy city , Amritsar (Punjab). The eminent brands like Abbott , sun pharma etc around the globe trust our quality and commitment. Our three manufacturing plants abide by the latest regulatory guidelines .

We strive to bring all the latest equipment and technologies at the Ravenbhel to offer the latest molecules to our clients under tablets, capsules, sachets, oral liquids, small volume Parenterals both in hormones and general category.
Why to be a part of pharmaceutical exhibition?
The exhibition iPhex 2020 is going to be instrumental for those yearning to have perennial growth in the industry. It is an event that is bringing abundant opportunities to have a direct access to:
Senior pharma executives
Buyers who want to buy pharmaceuticals and nutraceuticals ,New molecules and New dosage forms
Regulatory authorities/consultants of various countries
Hospital Administration and Health Professionals
Meeting with supply chain or procurement managers who are looking for new reliable suppliers.
Building strategic partnerships or entering into new ventures
When & Where iPhex 2020 is going to schedule?
Exhibition Details & Venue:- Ravenbhel Healthcare Exhibitor
6th – 8th May 2020, IEML, Knowledge Park II, Greater Noida.
Frequently Asked Questions